Our portfolio of patient education products, from print to anatomical art, covers a broad range of deliverable and customization options.
We fuse expertise in health engagement and the science of behavior change with an integrated portfolio of solutions and robust content assets. Our customizable programs and solutions are proven to effectively engage people to make positive health care decisions.
When you choose Krames Patient Education, you benefit from over 40 years of patient education experience, unmatched expertise, and a stringent development process that ensures the highest quality.
Krames Booklets and Brochures
With over 600 titles across nearly 40 specialties, Krames Patient Education incorporates health literacy design principles to increase readability and comprehension, improve engagement and motivate healthy behaviors. Most of our specialties are now updated with all New Editions featuring contemporary layouts and support for shared decision making and informed consent. They are offered in both English and Spanish editions. Available formats include:
Booklets and brochures
Fastguides

®

brochures
Interactive workbooks
Tear sheets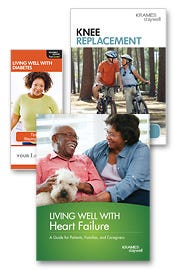 KramesArt® — anatomical art available for your patient education
Trust Krames' renowned anatomical art to help patients visualize medical concepts and better understand health conditions and treatment procedures without overwhelming them. Includes normal anatomy, disease states, treatments, and procedures. Ideal for visual aids on a tablet for patient consultation or on your website. Now available to license and download. Learn more about KramesArt.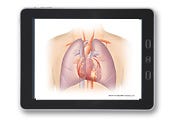 Customize our Interactive Workbooks
Our six comprehensive workbooks help individuals manage their chronic condition. Choose one of our interactive workbooks and make it yours. Select from three levels of customization offering a full suite of custom patient education solutions, from simply imprinting your logo or contact information on an existing title to creating brand new materials tailored to your specifications. Learn more about custom workbooks.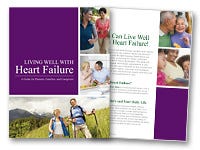 Print Newsletters and Calendars
Reach into your community with your message and brand on newsletters and calendars.
Custom newsletters keep your community aware of events and services available at your facility. Spotlight new services; promote a community event; offer lifestyle tips, recipes and more. Integrate our credible health content to elevate your brand and drive consumers to your website to learn more.
Fully branded to your organization, custom calendars deliver your health message all year long. Convey important messages about key services and events. Provide healthy recipes, lifestyle tips and calls-to-action. Include a physician and services directory. This versatile and cost-effective marketing tool can showcase your facility with two economical levels of customization to choose from.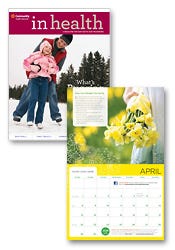 © 2020 The StayWell Company. All rights reserved.