Customize our renowned Workbooks and make Krames yours
We offer a full suite of custom patient education solutions, from simply imprinting your logo or contact information on an existing title to creating brand new materials tailored to your specifications.
Leverage our experience and expertise to:
Improve outcomes
Reduce readmissions
Support shared decision making and informed consent
Build market awareness of your unique brand and offerings
Increase patient satisfaction and referrals
Choose from three levels of customization:
Level 1: Your brand is covered
Level 1 includes customizing the front and back cover image and logo to reflect your brand.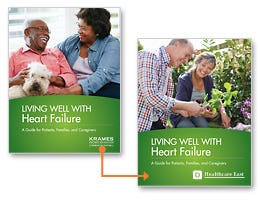 Level 2: Your brand inside and out
Level 2 includes customizing the front and back cover image and logo. Additionally, your color palette is used on the cover design and throughout the workbook.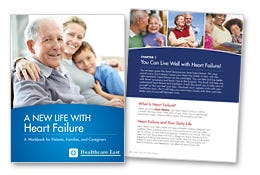 Level 3: One of a kind
Level 3 allows you to make both design and content customizations to the front and back cover and throughout the workbook.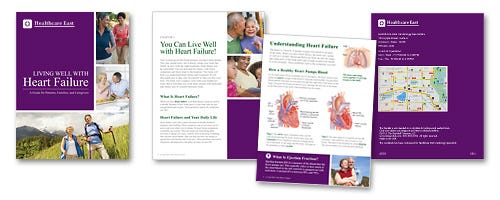 The Krames Patient Education Workbook Series
— Select any of these interactive Workbooks to customize to your needs:
Living Well with Heart Failure— Supports efforts to help reduce readmissions and improve outcomes for patients with heart failure.
Living Well with Heart Disease — Includes information on depression, notes for family and friends, signs of an emergency, and nitroglycerin therapy.
After a Stroke — Provides comprehensive coverage for understanding stroke and its implications, rehabilitation, preventing recurrent stroke, and goal setting.
Living Well with Diabetes — Designed for individuals or for use in adult diabetes self-management education classes.
Living Well with Asthma — Patients are encouraged to work with their health care team to develop an individualized plan to take control of their asthma.
Living Well with Chronic Lung Disease — Ideal tool for use in pulmonary rehab programs, offering tools to build self-care skills and improve quality of life.
© 2020 The StayWell Company. All rights reserved.